"On and off when we're in the vicinity. It's so difficult to catch anyone. If I'm here in London, Maureen's in Los Angeles, and Pattie's somewhere else. It's a miracle when we do get together. But when we do, it seems time has stood still." –Cynthia, 1991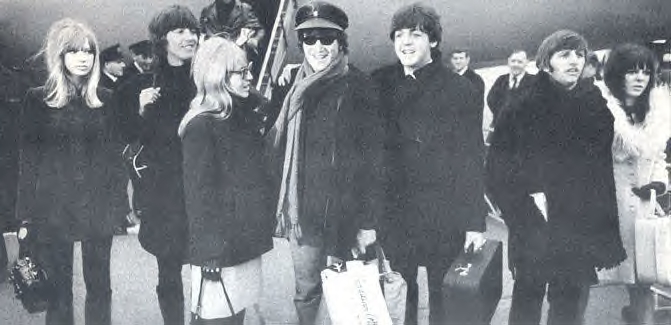 Pattie met both Cynthia and Maureen in 1964 during the making of "A Hard Day's Night". New couple George and Pattie went on a holiday in Ireland with John and Cynthia but it was cut short due to the press that surrounded them as they wanted to see George with his new girlfriend. They decided to try again with another holiday- going to Tahiti.
In 1965, Pattie moved in with George at his new home in Surrey, England nearby John and Ringo's homes where they socialized their new neighbors often. In 1966, George and Pattie got married while John, Cynthia, Ringo, and Maureen were away in Trinidad and Tobago where they sent congratulatory telegrams to the newlyweds.
In 1968, after the Beatles' trip to India ended, relationships started to fall apart. John left Cynthia for Yoko Ono while Paul and Jane broke up and The Beatles themselves were having problems with business. George and Pattie's marriage also started to unravel but they continued to be together, moving to Friar Park.
In 1973, George and Maureen were having a brief affair that resulted Pattie leaving George for good and started having a serious relationship with Eric Clapton who, for many years, was in love with her. In 1977, after more than 2 years of being separated, George and Pattie were divorced. Pattie married Eric in 1979.
In 1974, Cynthia was traveling in London for business and tried to make a phone call when lines were crossed and she heard Pattie's voice on the phone. They reconnected their friendship (as they haven't seen each other since 1968 when John and Cynthia divorced), continuing to keep in occasional contact and get togethers whenever they are both in the same area. In 2008, Cynthia and Pattie attended the opening celebration of the Cafesjian Center for the Arts in Yerevan, Armenia in discussions of their two memoirs, "John" and "Wonderful Tonight". In 2010, Pattie attended Julian's first photo exhibition Timeless in New York City with Cynthia, Yoko, and May.
Pattie and Maureen's friendship survived the fallout from Maureen's affair with George with occasional get-togethers until Maureen's death in 1994. Pattie was sadden by the news of Cynthia's death in 2015- they hadn't seen each other for a short amount of time.
Jenny Boyd
Born Helen Mary Boyd in 1947, Jenny was Pattie's younger sister and was a frequent visitor in the Beatles' circle. Jenny accompanied the Beatles and their significant others to Greece and India; she was also an employee for The Beatles' Apple Boutique. Jenny traveled with Cynthia and her then-roommate Alex Madras to Greece and Italy during a holiday while John got together with Yoko to make "Two Virgins", Cynthia caught them together when they arrived in London and stayed with Jenny and Alex to pull herself together for the start of the downfall of her marriage. In 1974, Cynthia and Jenny reconnected and Jenny interviewed Julian for her book Musicians In Tune in the early 1990s.
In 1970, Jenny married Mick Fleetwood, drummer of Fleetwood Mac; they had two daughters, Amy Rose and Lucy, before divorcing, remarrying, and redivorcing by 1977. Jenny remarried twice since then and has received a PH.d in Pyschology, becoming a clinical consulant.